POSCA acrylic pen 3M - Light Blue
The 3M's versatile bullet tip offers unlimited freedom of use. It adapts to all types of creation. The medium tip of the PC-1MR is the most versatile in the POSCA range. Providing a clear, precise line and beautiful colour, it is appreciated by both professionals and amateurs.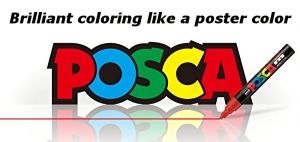 Quick Buy
Just 4 fields to fill in
We will contact you to finalize the order
The 3M suits all sorts of people: artists and creative professionals such as architects and designers; fans of creative hobbies and home decoration; surfers and skaters wanting a new look for their boards. Its ease of use makes it ideal for beginners to explore their creativity.

Complete
It can be used for both colouring and line drawing.

Agile
Its bullet tip and thin barrel help you work with finesse.

Fine
It is perfectly suited to ornamentation and arabesques.


POSCA tip range:

Tip size:

Color:

Blue